Events for the week of 03/25/2012
Central Florida Log & Timber Home Show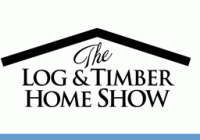 Date: 3/31 - 04/01 click here for website

Log Homes of America will be exhibiting at the Central Florida (Lakeland) Log & Timber Home Show March 31 and April 1. Call us at 800-564-8496 if you are interested in complimentary tickets to the show...quantities are limited.

The Lakeland Center
Exhibit Hall
701 West Lime Street
Lakeland, FL 33815

Saturday, March 31
10 a.m. - 6 p.m.

Sunday, April 1
10 a.m. - 4 p.m.
FREE Log Home Seminar in Northern Georgia
Date: 3/31 - 3/31

Cabin Creek Builders of Commerce, Georgia will present a free log home seminar on Saturday, March 31st from 2:00pm - 4:30pm. Learn more about log home packages, land acquisition, planning, financing, construction, maintenance and more.

The event will be held at:
Certus Bank
1989 Historic Homer Highway
Commerce, GA 30529

Please call 706-424-3161 or e-mail cabincreekbuilders@yahoo.com to make a reservation.